Vinyl Windows
Installing Industry-Leading Vinyl Windows in Homes Throughout the East Coast Region Paramount Builders has been providing industry-leading vinyl windows to homeowners in the East Coast region since 1991. Our family-owned exterior remodeling company is a trusted name among area homeowners thanks to the outstanding products and service we provide. For us, the goal has always…
Installing Industry-Leading Vinyl Windows in Homes Throughout the East Coast Region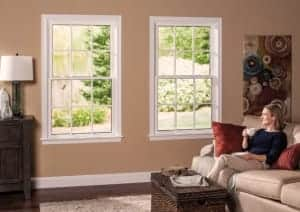 Paramount Builders has been providing industry-leading vinyl windows to homeowners in the East Coast region since 1991. Our family-owned exterior remodeling company is a trusted name among area homeowners thanks to the outstanding products and service we provide. For us, the goal has always been to improve our community one home at a time, and our vinyl windows help us do exactly that.
Vinyl Windows From One of the Industry's Most Respected Manufacturers
At Paramount Builders, we have long been committed to providing the homeowners we serve with only the best products around. And that's not something we say lightly—we back it up. We are proud to be an authorized dealer of outstanding industry-leading vinyl windows from Preservation, one of the most renowned manufacturers around. We have been installing these triple-pane vinyl replacement windows, which launched in 1998, since 1999. That, as well as our status as a 10-time Preservation dealer of the year, is a clear indication that you can trust us with your replacement window installation.
Our Vinyl Windows Offer the Best in Durability, Energy Efficiency, and Beauty
These windows' vinyl frames won't chip, crack, peel, warp, or rot over time, no matter the weather conditions they have to endure. They also won't ever need to be repainted or refinished to continue looking like new. Having replacement windows that hold up against whatever Mother Nature has to offer while maintaining their like-new look? There simply is no beating that.
Our vinyl windows also feature triple-pane glass and SST foam spacer systems that make them highly energy efficient, which can help reduce heat transfer and make it easier for your HVAC system to maintain a comfortable indoor temperature throughout the year. And as a result, you can benefit from lower monthly energy bills.
What's more, these windows feature BetterVue® screens that offer superior insect protection, airflow, and visibility over other standard fiberglass screens. The screens can make for a beautiful view of the outdoors, while our abundance of color, finish, and style options can allow for a beautiful view from the outdoors. We offer a variety of window styles, including:
An Unparalleled Installation Experience From Paramount Builders
Choosing Paramount Builders to install vinyl windows at your home ensures you will receive a seamless installation experience. Because of our familiarity with Preservation's products and our wealth of industry experience, you can be sure that our expert craftsmen know just what it takes to install your replacements perfectly. Plus, our team will display a respectful, cheerful demeanor while working at your home, delivering an experience that will surely exceed your expectations in every way.
Contact Paramount Builders today for more information on the benefits of having our industry-leading vinyl windows installed at your home. We proudly serve homeowners throughout Virginia, as well as Jacksonville, Florida.