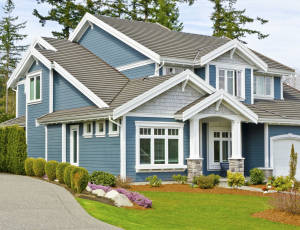 Paramount Builders installs long-lasting vinyl trim for homeowners all throughout the East Coast Region. Trim is an important investment, as it can ventilate your home's soffit and help to prevent costly rot and water damage to your home. That's why so many homeowners choose to partner with Paramount Builders. Not only have we been serving homeowners throughout the region since 1991, but we also maintain an A+ rating with the Better Business Bureau for the exceptional quality of our products, installation, and customer service.
The vinyl trim we install is crafted by one of the most respected names in the industry, Preservation. We have chosen this trim specifically because it offers a number of benefits to homeowners in the East Coast region, including:
Beauty – Our trim is available in a number of decorative design options, and we use special bends to make it look unique. We are also able to match the color of our vinyl trim to our Preservation vinyl siding for homeowners who are looking to give their home one complete, finished look.
Durability – The vinyl that our trim is made of won't crack, peel, or chip, even after years of exposure to the elements.
Virtually no maintenance – Since its vibrant color will won't fade, you will never need to repaint this trim to keep it looking like new.
Furthermore, when you trust Paramount Builders to install your vinyl trim, you can feel good knowing that you have partnered with a trustworthy, reputable company that has the ability to get the job done right. Our technicians are trained and extremely knowledgeable in the latest installation techniques, and will show the utmost respect for you and your home throughout the entire installation process.
To learn about the many reasons that homeowners in the East Coast region turn to Paramount Builders for durable, attractive vinyl trim, contact us today. Convenient monthly payment options are available to those who qualify.