Vinyl Siding That Can Improve All Aspects of Your East Coast Region Home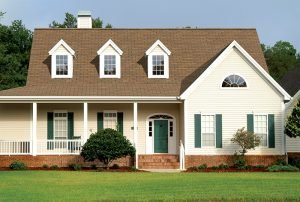 When you're looking for siding that will enhance your home's curb appeal while providing exceptional durability and energy efficiency benefits, vinyl siding is the way to go. That's why, at Paramount Builders, we are proud to install premium vinyl siding from industry-leading manufacturer Preservation for homeowners in the East Coast region. It has long been our commitment to improving our community one home at a time, and Preservation's siding is one of the avenues we use to accomplish that mission.
Preservation's Industry-Leading Vinyl Siding is Second to None
At Paramount Builders, we always aim to install only the best for the homeowners we serve. That's how our partnership with Preservation came about. The experts at Preservation have produced one of the most advanced siding products on the market, which we are proud to offer. Plus, with our certification through the Vinyl Siding Institute (VSI), we are more than qualified to provide a flawless installation of this outstanding siding at your home.
Why Invest in Preservation's Vinyl Siding for Your Home?
The best siding products offer features that address your home's needs across the board. That's what Preservation's vinyl siding does, and it does it at the highest level, offering:
Impressive Durability
The vinyl siding we offer from Preservation has been engineered to be highly durable, as it can easily withstand inclement weather conditions without becoming worn or damaged. It is resistant to denting, sagging, cracking, chipping, and peeling, as well as damage from hail and wind, so you can trust that it will continue to look its best for years to come, no matter what Mother Nature puts it through. Furthermore, this siding is infused with a non-toxic additive that will deter termite infestation at your East Coast area home.
Exceptional Energy Efficiency
The energy efficiency of this vinyl siding is outstanding, as it helps to provide a wealth of energy-related benefits for your home. Because it is installed over a thick layer of ClimaShield® foam underlayment, it will:
Create a complete weather seal around your home
Help to minimize the heat transfer into and out of your home
Lessen the amount of work your HVAC system must do to maintain a comfortable interior temperature
Potentially lead to monetary savings on your monthly energy bills
Eye-Catching Beauty
For many homeowners, curb appeal is the most important factor to consider when investing in a home improvement project. When you invest in the vinyl siding we offer, you can place a big tally next to that aspect of your checklist. This siding is available in a number of gorgeous styles—including clapboard, cedar shake, scalloped, Dutch lap, and board and batten. Plus, it also comes in a wide variety of stunning, vibrant colors. Whatever aesthetic you have in mind, you can be sure that we can meet that need and help your home become the talk of the neighborhood.
Invest in New Vinyl Siding for Your Home Today!
When you invest in vinyl siding with Paramount Builders, you can rest assured that it will be backed by Preservation's lifetime limited transferrable warranty after it is installed by our trained and experienced craftsmen.
Contact Paramount Builders today to learn more about the benefits of choosing us to install Paramount Builders Preservation's industry-leading vinyl siding at your home in the East Coast region. We proudly serve homeowners throughout Northern Virginia communities, as well as Jacksonville, Florida.