Understanding Home Windows: A Homeowner's Guide
As a homeowner, choosing the right windows for your home is more than just an aesthetic decision. It's about comfort, energy efficiency, and enhancing the overall value of your property. Whether you're renovating your home or replacing old windows, understanding the basics can help you make an informed decision. Types of Windows Factors to Consider…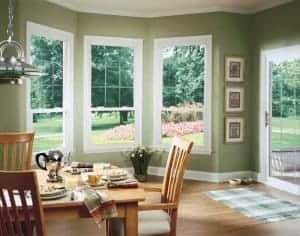 As a homeowner, choosing the right windows for your home is more than just an aesthetic decision. It's about comfort, energy efficiency, and enhancing the overall value of your property. Whether you're renovating your home or replacing old windows, understanding the basics can help you make an informed decision.
Types of Windows
Double-Hung Windows: These are classic and versatile, with two sashes that slide vertically. They are excellent for ventilation and easy to clean.
Casement Windows: Hinged on the side, these windows open outward with a crank. They offer excellent ventilation and are ideal for hard-to-reach areas.
Picture Windows: These are large, stationary windows that provide expansive views and natural light but do not open, making them more energy-efficient.
Bay and Bow Windows: These extend outward from the home, creating extra space. They are a combination of stationary and operational windows, offering both views and ventilation.
Factors to Consider
Energy Efficiency: Look for windows with good insulation properties (double or triple-glazed) and low-E coatings to reduce heat loss and save on energy bills.
Material: Common materials include wood (classic and insulating), vinyl (low maintenance and cost-effective), aluminum (durable and modern), and fiberglass (strong and energy-efficient).
Style and Aesthetics: Choose a style that complements your home's architecture. Consider the color, shape, and size that best suits your home's design.
Installation and Maintenance
Professional installation is crucial for ensuring the windows are correctly fitted and sealed.
Regular maintenance, such as cleaning and inspecting for damages, extends the life of your windows.
The Impact on Home Value
Quality windows can significantly enhance your home's curb appeal and increase its market value. They also contribute to a more comfortable living environment.
Windows play a pivotal role in the functionality and aesthetics of your home. By understanding the different types, materials, and features, you can make a choice that suits your needs, budget, and style. Remember, a well-chosen window not only enhances the look of your home but also contributes to its energy efficiency and comfort.