The Ultimate Guide to Roof Replacement in Newport News, VA
When you're a homeowner in Newport News, Virginia, your roof is more than just a structure over your head. It's your first line of defense against the elements, from the humid summers to the sometimes wet and windy conditions that we experience in the area. But what do you do when your roof starts to…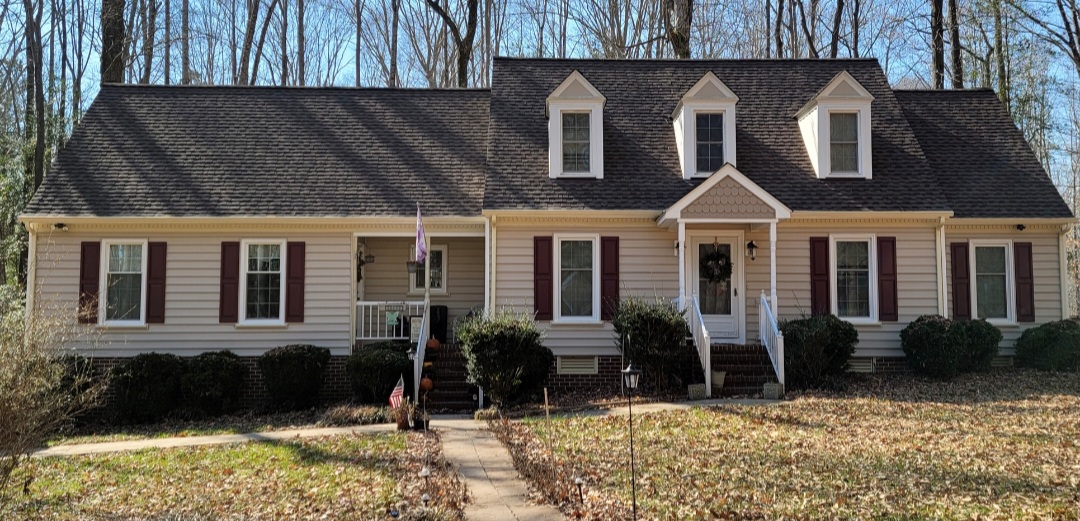 Time to Replace Your Roof?
When you're a homeowner in Newport News, Virginia, your roof is more than just a structure over your head. It's your first line of defense against the elements, from the humid summers to the sometimes wet and windy conditions that we experience in the area. But what do you do when your roof starts to show signs of wear and tear, or worse, outright damage? The answer is simple: It's time for a roof replacement.
In this educational blog post, we'll take a closer look at everything you need to know about roof replacement in Newport News, VA, brought to you by Paramount Builders, the local experts in roofing solutions.
Signs That You Need a Roof Replacement
Age: Most roofs last between 20 and 30 years. If your roof is approaching this age, it's time to consider a replacement.
Missing or Damaged Shingles: Warped or missing shingles are a sure sign that your roof needs attention.
Leaks: Puddles in the attic or water spots on the ceiling can indicate roof damage.
Moss and Algae Growth: These can be signs of moisture and may indicate underlying issues.
Increased Energy Bills: A failing roof often lacks proper insulation, leading to increased energy costs.
Types of Roofing Material
Asphalt Shingles
Pros: Cost-effective, versatile, and come in various colors and styles.
Cons: Less durable than some other options, not very eco-friendly.
Metal Roofs
Pros: Highly durable, eco-friendly, and excellent at reflecting heat.
Cons: More expensive upfront, can be noisy during rainstorms.
Tile Roofs
Pros: Extremely durable, very attractive, and low maintenance.
Cons: Heavy and expensive, not suitable for all home structures.
Why Location Matters: The Newport News Climate
Living in Newport News comes with its own set of challenges when it comes to roofing. The area can be humid, especially during the summer, which may accelerate the deterioration of some roofing materials like wood. Furthermore, the region can experience heavy storms that can cause physical damage to your roof. That's why it's crucial to choose a roofing solution that is suited to Newport News' unique climate conditions.
Permitting and Local Regulations
Before undertaking a roofing project in Newport News, you'll need to be aware of local building codes and permit requirements. Usually, this involves applying for a permit through the Newport News Building Permits and Inspections Division. Paramount Builders can help guide you through the permitting process to ensure your project adheres to local regulations.
The Cost of Roof Replacement
The cost can vary depending on various factors such as the material chosen, the size of your home, and the complexity of the job. However, investing in a quality roofing system will pay off in the long run, protecting your home and increasing its value.
Why Choose Paramount Builders
Local Experience: We understand Newport News' unique climate conditions and local building regulations.
Quality Materials: We only use the best materials to ensure that your new roof will last for years to come.
Expert Installation: Our team of skilled professionals is dedicated to providing the highest level of craftsmanship.
A roof replacement is a significant investment, but it's one that pays off in the long run by protecting your home and increasing its value. If you're a homeowner in Newport News, Virginia, make sure to consult local experts like Paramount Builders for your roofing needs. From selecting the right materials to understanding local codes and regulations, we're here to help you through every step of the process.
For more information or to schedule a consultation, feel free to reach out to us. Trust your home to Paramount Builders, and let us put our local experience to work for you.