Replacement Windows Williamsburg VA
Vinyl Replacement Windows Installed in Homes in Williamsburg, VA Paramount Builders is proud to offer Preservation's vinyl replacement windows to homeowners in Williamsburg, Virginia, and all nearby cities. We have been helping to improve our community one home at a time since 1991, and our commitment to providing unparalleled products and service has helped us…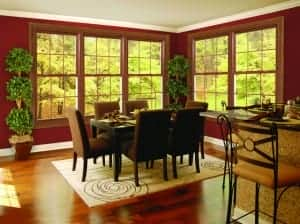 Vinyl Replacement Windows Installed in Homes in Williamsburg, VA
Paramount Builders is proud to offer Preservation's vinyl replacement windows to homeowners in Williamsburg, Virginia, and all nearby cities. We have been helping to improve our community one home at a time since 1991, and our commitment to providing unparalleled products and service has helped us earn and maintain an A+ rating with the Better Business Bureau.
One of the most impressive benefits of the replacement windows we install is their energy efficiency. Our windows can help to minimize the transference of outdoor temperatures into your Williamsburg, VA, home, thus reducing the burden on your HVAC system to maintain a comfortable temperature and potentially even saving you money on your energy bill. They do this thanks to their triple-pane glass and SST foam spacer systems, which are much less conductive than the aluminum spacers used in the windows offered by other companies. In addition to improving energy efficiency, our windows' foam spacers also:
Provide improved sound absorption
Help to prevent condensation
Offer enhanced structural stability
Reduce the chance of seal failure
Furthermore, our replacement windows also offer aesthetic and functional benefits, as well. In terms of aesthetics, our windows come in a number of styles – including slider, casement, double hung, bay, bow, box, and garden. And, because each of these styles can be customized in terms of color and finish, it will be easy to choose a product that compliments your home's unique character. For enhanced functionality, our windows feature BetterVue® screens, which offer better airflow, visibility, and insect protection than standard fiberglass screens. And, because our replacement windows have frames made of durable vinyl, they will never require any extensive maintenance to keep looking their best. On top of all of these benefits, our replacement windows are backed by a limited lifetime transferrable warranty for added peace of mind.
Contact Paramount Builders today to learn more about the replacement windows we offer to homeowners in the Williamsburg, VA, area.