How to Maximize Curb Appeal with Exterior Home Improvement Upgrades
Exterior home improvement projects can greatly enhance the curb appeal and overall value of a property. Here are some of the most common types of outside improvement projects that homeowners undertake: These are just a few of the most common types of exterior house improvement projects, and Paramount Builders can help with several of them.…
Exterior home improvement projects can greatly enhance the curb appeal and overall value of a property. Here are some of the most common types of outside improvement projects that homeowners undertake:
Siding replacement: This is one of the most popular exterior home improvement projects as it can greatly enhance the appearance of a home while also providing added protection from the elements. Siding can be made from a variety of materials, such as vinyl, aluminum, wood, or fiber cement, and can come in a wide range of colors and styles.
Painting: A fresh coat of paint can do wonders for a home's exterior. It can give the home a new look and also protect it from the elements. It's important to choose a paint that is suitable for the type of material on your home's exterior and to ensure that the surface is properly prepped before applying the paint.
Window replacement: Old, drafty windows can not only detract from a home's appearance but also increase energy costs. Replacing vinyl windows with energy-efficient models can not only improve a home's aesthetic but also reduce energy bills.
Roofing: A new roof can greatly enhance a home's curb appeal and provide added protection from the elements. There are many types of roofing materials available, such as asphalt shingles, metal, tile, and slate, and each has its own set of pros and cons.
Landscaping: A well-maintained landscape can greatly enhance a home's curb appeal. Landscaping can include the planting of trees, shrubs, and flowers, as well as the installation of a lawn, a garden, or a patio.
These are just a few of the most common types of exterior house improvement projects, and Paramount Builders can help with several of them. Each project requires careful planning and execution to ensure that it is completed correctly and to the homeowner's satisfaction.
It's always wise to consult with a professional window company, landscaper, roofing company, etc before undertaking any exterior home improvement project to ensure that it is done correctly and safely.
Adding Value and Beauty to Your Property
Whether you're sprucing up your property for a quick sale or simply looking to add value and aesthetic appeal, exterior home improvement projects are a great way to go. From replacing windows, siding, and roofing to adding outdoor living spaces such as patios and decks, there are many options available when it comes to upgrading your house's exterior. Here we look at the benefits of exterior house improvement projects and provide tips on choosing materials and hiring contractors for big jobs.
Benefits of Exterior Home Improvement Projects
The biggest benefit to investing in exterior home improvements is increasing the overall value of your property. A well-maintained home with modern updates and attractive exterior features is more likely to fetch a higher sale price than one that looks neglected or outdated. Some of the most popular exterior home improvement projects include replacing siding and windows, adding outdoor living spaces such as decks and patios, and installing energy-efficient roofing systems. All of these can not only increase your property's curb appeal but also make it more energy-efficient, saving you money on heating and cooling costs.
Choosing Materials
When choosing materials for your home improvement project, it's important to consider the climate and environment in which you live. In areas with high humidity levels or frequent storms, durable materials such as stucco, brick, or stone may be preferable over wood siding that can easily rot. If you're replacing windows, look for double-paned models with low-E coatings to reduce energy costs and fading of interior furnishings like carpets and furniture due to UV rays. When selecting roofing materials, look for shingles that are certified to withstand high winds, hail, and fire.
Hiring Contractors for Big Exterior Home Improvement Projects
If you're planning a large exterior home improvement project such as installing a new roof or replacing siding and windows, it's best to hire a licensed professional contractor rather than attempting to do it yourself. Make sure you research potential contractors thoroughly and verify their references before making a final decision. Ask for an estimate in writing that outlines the project timeline, materials used, and costs associated with labor and supplies. You can also inquire about any additional services they offer such as free inspections or warranties on workmanship.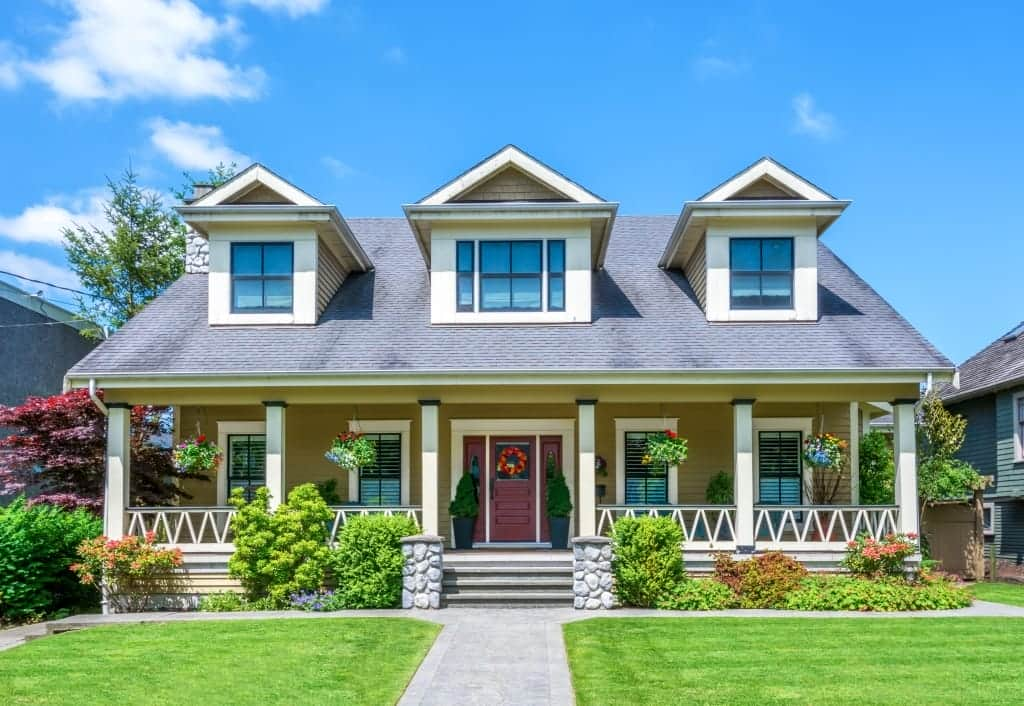 Exterior home improvement projects can be a great way to add value and beauty to your property. Consider the benefits, choose materials wisely, and hire experienced contractors for big jobs to ensure that your project is completed safely and efficiently. With some careful planning and attention to detail, you'll have an exterior that looks great and has increased its overall value.
Once your exterior home improvement project is complete, you'll be able to reap the rewards of increased curb appeal and potential cost savings in energy bills. With a little effort and some help from professionals, you can make your home look its best while adding years of life to it!