Double-Hung Windows
We Offer Vinyl Double-Hung Windows in the East Coast Region Paramount Builders' vinyl double-hung windows blend classic and modern characteristics, providing an appealing look for your home. This style of our triple-pane vinyl replacement windows – inspired by North American architecture – mixes classic craftsmanship with new and exciting features that are sure to upgrade…
We Offer Vinyl Double-Hung Windows in the East Coast Region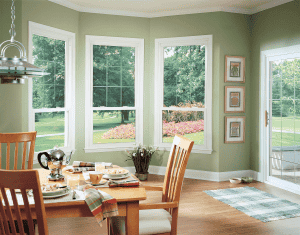 Paramount Builders' vinyl double-hung windows blend classic and modern characteristics, providing an appealing look for your home. This style of our triple-pane vinyl replacement windows – inspired by North American architecture – mixes classic craftsmanship with new and exciting features that are sure to upgrade your home's look and feel.
Double-hung windows feature dual sashes that slide open from both the top and bottom, allowing for more ventilation options in your home. Not only that, but the tight seals made when the windows are closed effectively keep air from getting in and out.
Benefits of Double-Hung Windows
Paramount Builders' double-hung windows have a variety of unique features and benefits, including:
Window frames that are crafted with IntegraWeld fusion welding to provide a strong structure and an appealing look. With the IntegraWeld method and the durable vinyl material used, the frames are made to last with little need for maintenance.
Maxum33™ fiberglass sash reinforcements, helping it to withstand heavy winds.
A TrueCapture™ sloped sill to prevent water infiltration.
An EvenForce™ Balance System, which ensures that opening and closing your window remains smooth and easy for years to come.
An insulated glass package and foam spacer system that can increase thermal efficiency while also reducing sound, condensation problems, and overall energy costs.
Heavy-duty weatherstrips, which protect against insects and block moisture and humidity from spreading into your home.
Additionally, our vinyl replacement windows come equipped with fine-mesh screens that will help keep insects out, improve airflow, and sharpen visibility better than standard fiberglass screens.
Why Choose Us?
Paramount Builders is a family-owned company that has been improving our community one home at a time since 1991, providing the East Coast region with unparalleled customer service, the best home improvement products, and high-quality installation. Plus, because we value your needs, we offer affordable monthly payment plans to those who qualify. Our dedication to providing homeowners with only the best has earned us a consistent A+ rating from the Better Business Bureau.
For more information on our vinyl double-hung windows, contact Paramount Builders to schedule a free consultation today.